C
Category 4 lenses (Sunglasses)
The transmission rate is a percentage given which describes the amount (or rate) of sunlight that will go through the lenses of your sunglasses and into your eyes. Being a percentage, they run from 0% (black as night) to 100% (clear as day).
All lenses fall somewhere in between there, most being closer to 0%. Each different range of transmission rates also has categories which are organised like this:
Category 0: 80 – 100% transmission
Category 1: 46 – 79 % transmission
Category 2: 18 – 45 % transmission
Category 3: 8 – 17 % transmission
Category 4: 3 – 8 % transmission
---
D
Day trek
A day trek refers to a trek that can be easily completed in a single day
Devata
Deva is the Hindu term for deity; devatas are a kind of smaller more focused devas. There are many kinds of devatas: vanadevatas (forest spirits, perhaps descendants of early nature-spirit cults), gramadevata (village gods), devata of river crossings, caves, mountains, and so on.
---
E
Elevation graph
An elevation graph is any graph which shows the different elevations on a trail. The horizontal "x" axis represents the distance over ground, while the vertical "y" axis represents the elevation from sea level in meters.
---
G
Gaddi
---
L
Lacing System
Different kinds of lacing systems
Low cut shoes
Shoes having uppers that do not extend up as far as the ankle
---
S
SAC Scale
Die Alpen magazine, No. 4/2002, pages 41-43 brought a new Swiss (Swiss Alpine Club) scale which was later adopted also in other Alpine countries. It combines different difficulty aspects of a hike into a 6 grade scale, as defined below.
Tag: Hiking | SAC Scale: T1
Trail: Well cleared.
Terrain: Area flat or slightly sloped, no fall hazard.
Requirements: None.
Tag: Mountain Hiking | SAC Scale: T2
Trail: Trail with continuous line and balanced ascent.
Terrain: Terrain partially steep, fall hazard possible.
Requirements: Hiking shoes recommended. Some sure footedness.
Tag: Demanding Mountain Hiking | SAC Scale: T3
Trail: Exposed sites may be secured with ropes or chains, possible need to use hands for balance.
Terrain: Partly exposed sites with fall hazard, scree, pathless jagged rocks.
Requirements: Well sure-footed. Good hiking shoes. Basic alpine experience.
Tag: Alpine Hiking | SAC Scale: T4
Trail: Trail not necessarily visible, exposed passages can be protected with cables, to maintain equilibrium one eventually needs hands.
Terrain: Terrain quite exposed, precarious grassy acclivities, jagged rocks, facile snow-free glaciers.
Requirements: Familiarity with exposed terrain. Solid trekking boots. Some ability for terrain assessment. Alpine experience.
Tag: Demanding Alpine Hiking | SAC Scale: T5
Trail: Pathless, exposed and difficult terrain, on some places easy climbing sections, steep scramble terrain.
Terrain: Exposed, demanding terrain, jagged rocks, few dangerous glacier and névé.
Requirements: Mountaineering boots. Reliable assessment of terrain. Profound alpine experience. Elementary knowledge of handling with ice axe and rope.
Tag: Difficult Alpine Hiking | SAC Scale: T6
Trail: Pathless, not marked, very exposed and difficult terrain. Climbing passages up to UIAA degree II.
Terrain: Often very exposed, precarious jagged rocks, glacier with danger to slip and fall.
Requirements: Mature alpine experience. Familiarity with the handling of technical alpine equipment.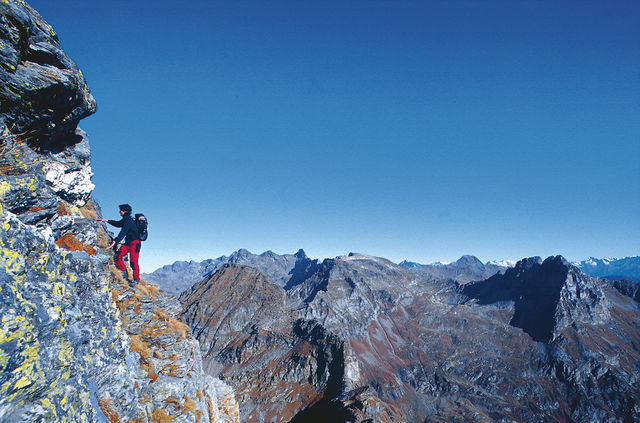 ---
T
Thara
A temporary shelter built by gujjars in Jammu & Kashmir (J&K). These shelters consist of a hall with a flat thatched roof, usually made of mud and wood. According to J&K law statutes, these shelters cannot have doors, which makes them accessible to trekkers. Be careful when approaching these structures. Tharas are usually guarded by gujjar dogs, and these dogs may be territorial and fierce.